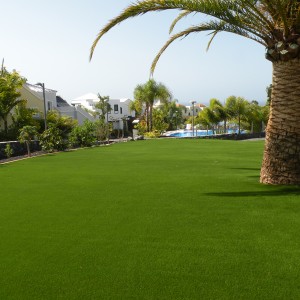 What is fake grass, synthetic grass, no mow grass?
In short, fake grass, synthetic grass and no mow grass are all different names for
artificial grass
. There are even more names, like artificial lawn,
astroturf
,
artificial turf
and artificial
grass carpet
. And that's still not all!
Fake grass
Fake grass is one of the names that is used instead of artificial grass. Artificial grass is looking more and more like real natural grass, but it's made from artificial substances.
Synthetic grass
Another reference to the plastic base of artificial grass is synthetic grass. Synthetic refers to chemistry; Produced by synthesis, especially not of natural origin and prepared or made artificially: synthetic. In other words not natural or genuine; artificial.
No mow grass
No mow grass is yet another name for artificial grass, because it naturally doesn't grow and therefore doesn't need mowing. It doesn't need watering and fertilising for that matter either.