Royal Grass® EcoSense looks very attractive with its 40mm long fibres. In addition, this artificial grass feels wonderfully soft and springy. This type of artificial turf is rather unique as it is 100% recyclable, i.e. cradle-to-cradle. After its life, this artificial grass can be reused to produce new artificial turf. We have given it this product name to represent the wonderful feeling of the grass as well as its sustainable characteristics: EcoSense!
Safe for you and the environment
Artificial grass products of Royal Grass® contain no harmful toxins or heavy metals. EcoSense takes our eco-friendliness to a whole new level. This product is fully recyclable thanks to newly developed production techniques.
Royal Grass® EcoSense has a beautiful summer green colour which blends in well with our climate, in every season. The combination of green and beige coloured blades of grass gives this artificial grass a very natural look. The fibres are 40mm long, making your artificial lawn look both luxurious and well kept. But that is not all. Royal Grass® EcoSense also feels incredibly soft and resilient. Try walking on it with your bare feet.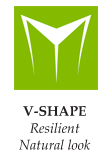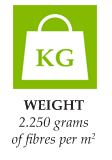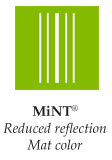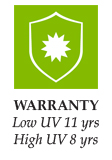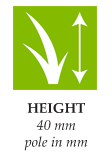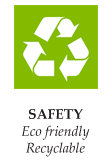 Unique V-shape grass fibres
Full grassy density
Fitted with supporting rootzone
Grass blades of 40mm in length
Natural look
Beautiful, intense green colour
100% cradle-to-cradle
Cradle-to-cradle artificial grass
An artificial lawn is created with a sort of grass carpet. Just like a normal carpet the fibres are attached to a robust carpet backing. The grass fibres are fixed with latex. In conventional artificial grass the grass carpet consists of various materials. As a result, artificial grass can be recycled but only once. It cannot be used again as artificial grass. This is not the case with Royal Grass® EcoSense. Royal Grass® EcoSense is made of 100% polyolefin material – the fibres, the carpet backing and the coating used to fix the fibres to the backing.
Thanks to this, EcoSense is fully recyclable at the end of its life and it can be reused to produce new artificial grass.

Ten Cate – the world's largest producer in the artificial grass industry – is Royal Grass®'s technological partner. EcoSense is the result of intensive collaboration and both parties vouch for EcoSense's durability and recyclability. With EcoSense you choose for a sustainable lawn turf.
UNIQUE AND PATENTED
V-shape fibres with MiNT Technology
It has always been our goal to make the most natural looking artificial grass. In order to do so, Royal Grass® has been continuously studying the characteristics of natural grass. This has led to our special V-shaped fibres. We have been producing these fibres since 2005 and are the only manufacturer in the world to do so. The V-shaped fibres have been inspired by nature and have a lengthwise fold, just like natural blades of grass.
Our latest innovation is Micro Nerve Technology (MiNT). We have integrated the micro veins in the length in our artificial grass fibres. These micro veins strongly reduce glare and make our artificial grass look as natural as possible!
The benefits of V-shaped artificial grass fibres with MiNT
The 'backbone' and the optimal angle of the V-shape result in grass that stands as upright as possible and stays upright for a longer time compared to other artificial grass' flat fibres.
Thanks to the use of Micro Nerve Technology, the fibres have less glare so the grass does not have a nasty fake or plastic appearance.
These developments are patented, so no other artificial grass company can offer the same natural look with V-shaped fibres and MiNT!
REQUEST A QUOTE NOW