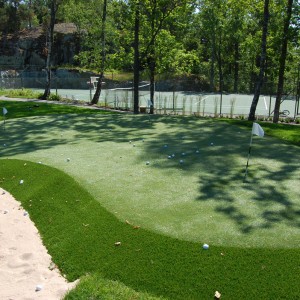 Is artificial turf suitable for making a putting green?
We do offer Royal Grass® artificial turf products that are suitable for using as putting greens. The surface of artificial grass ensures great comfort in playing. We also supply finishings for your new putting green.
Artificial turf is the best for making a putting green!
Royal Grass® putting greens are developed to achieve a high stimp reading, this will enable a natural bounce and spin. All of our products are ideal for putting green fringes. Don't think about all the time and money you have to spend to keep your natural grass putting green in shape anymore. Your own bespoke private golf court can be installed according to your every wish with artificial turf, from a putting green to large driving ranges.
You can play golf at home, in your garden or on your terrace, whenever you want with a minimum of maintenance. Royal Grass® artificial grass has a truly natural look and feel. Royal Grass® is of the highest quality you can get. Don't worry about the grass losing it's colour. Our high-quality TenCate synthetic grass fibres are tested under extreme circumstances.
Create your own, unique private golf green – whether a putting green or a complete driving range, depending on the available space around your home. An important advantage of artificial grass is its low maintenance. There is no need to mow, spray or fertilise. Any twigs, leaves and seeds from plants and bushes around the garden are easily swept off. Should any weeds ever occur, these are easily removed by hand or kept at bay by applying a weed killer.