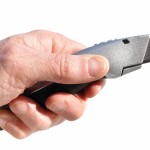 How to lay artificial grass?
Are there any special tools required?
You do not need a whole new set of tools how to lay artificial grass. The only thing you absolutely need is a sharp knife (Stanley knife). Artificial grass is delivered in rectangular pieces which usually need to be cut to size. The fabric and/or base layer is also cut to size with a sharp knife.
If you use self-adhesive tape to glue the seams, you do not need any tools. But if you use separate glue and seam tape, you will need tools to mix the glue and you need a palette knife to spread the glue onto the seam tape.
To add the filler sand, specialists use a special sand spreader cart. This is an investment most people will not make. It is also possible to spread the sand evenly over the surface by hand instead.
More information about laying artificial grass
If you prefer to have the installation of your artificial lawn done by professionals, please ask your local artificial grass supplier for a professional installation service.