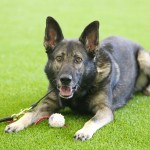 How suitable is artificial grass for dogs?
CAN I ALLOW DOGS ON MY ARTIFICIAL LAWN?
Pets love our artificial grass as well. If you have a dog you will soon find out he loves to lay stretched out on the clean and dry artificial lawn. It is no problem for your dog to play on the artificial grass. As long as you make sure the grass cover is securely attached, it is not able to move place and it has a durable supporting surface, pets playing on the lawn are absolutely no problem.
WHAT ABOUT DOG URINE OR POOP?
Royal Grass® artificial lawn is dog-friendly and perfectly dog-proof, even if they accidentally answer nature's call. This will not cause decolourisation to your artificial lawn. We do advise you to remove any droppings and to rinse the spot with water to avoid a nasty smell and to maintain proper hygiene. Always remove hard droppings and make sure they are not trodden into the artificial grass lawn. Of course you will understand artificial grass should not be used in a dog walking area.
WHAT ABOUT DIGGING IN MY LAWN?
Does your dog like to dig holes in your existing natural lawn? Make sure to keep a close eye on your dog when you have just had artificial grass for dogs installed. Most dogs will stop digging when they cannot smell the soil anymore. It is sometimes difficult to unlearn acquired behaviour, but it is definitely better for the lifetime of your artificial lawn if you no longer allow your dog to dig holes.
The best in artificial grass for dogs
Royal Grass® is very strong indeed. The construction of Royal Grass® is such that the tufts are secured on the underside of the matting. As a manufacturer of premium quality artificial grass, Royal Grass® is proud to have developed Lead free grass. Unlike most other manufacturers, no harmful chemicals or heavy metals are used in the production of any of our grass. This makes our grass 100% safe for pets and children.